The factory overclocked ASUS Radeon RX 6900 XT Strix ROG LC O16G is a high-performance gaming graphics card from the Radeon 6000 series. The AMD Radeon RX 6900 XT STRIX  is based on the Navi 21 graphics chip, which uses the RDNA 2 GPU architecture. It is the first AMD graphics card to support Raytracing for realistic lighting effects in games. It also supports DirectX 12 Ultimate and AMD FidelityFX which provides numerous options to enhance the graphics output. With these features the ASUS Radeon RX 6900 XT ROG Strix LC O16G  is able to display games in impressive graphical splendour.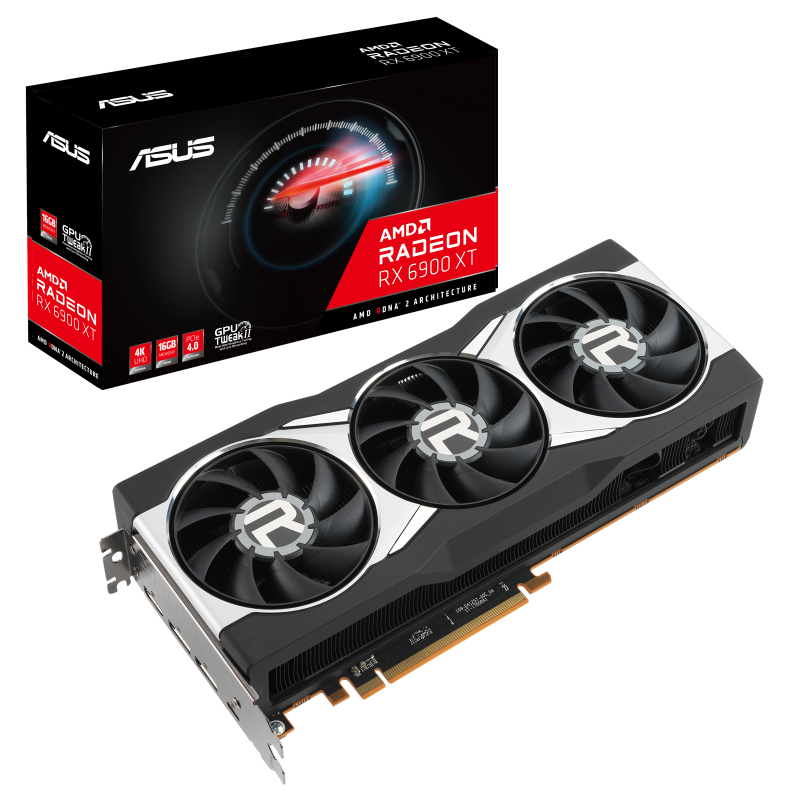 The Features of the ASUS Radeon RX 6900 XT Strix ROG LC O16G at a Glance:
Radial-fan cooling design combined with 240mm AiO and RGB-LED lighting
AMD Navi 21 graphics chip with RDNA 2 architecture
Supports DirectX 12 Ultimate & Vulkan
16GB GDDR6 VRAM (256 Bit) and 128MB AMD Infinity Cache
AMD FreeSync technology for variable refresh frequencies
Accelerated game streaming and video encoding with VP9, AV1 and HEVC
Base clock speed: 1,925MHz
Game clock speed: 2,135MHz
Boost clock speed: 2,365MHz
7nm manufacturing process for high efficiency
Low TDP of 300 watts at high-end performance
Power supply: 2x 8-pin PCIe
The performance of the ASUS Radeon RX 6900 XT ROG Strix LC O16G
The Navi 21 graphics chip of the ASUS Radeon RX 6900 XT Strix ROG LC O16G clocks at 2,045MHz in gaming mode and can speed up to 2,365MHz in boost mode . The gaming mode indicates the nominal average clock rate under load when playing. The 16 GB GDDR6 video memory connected via a 256-bit memory interface is clocked at 8,000MHz (effectively 16,000MHz ).
A radial-fan cooling design in combination with a 240mm AiO in black and silver with RGB-LED lighting is responsible for cooling heat (TDP of 300 watts). The graphics card is 277mm long and 2.2 slots high . Three 8-pin PCIe power connectors are required to power the graphics card. The manufacturer recommends a PSU with a power rating of at least 850 watts .
More Information on the AMD Radeon RX 6900 XT STRIX
Background information on GPU architecture, GDDR6 VRAM and benchmarks can be found on the category pages .
Rapid Graphics Card Replacement at Caseking!
At Caseking, defective graphics cards of all the brands listed below that are validly returned (meaning that the faults can be verified by us) by customers during the two year warranty period, starting with the receipt of the goods, will be immediately replaced with a brand new card if in stock.
This way, lengthy waiting times can be avoided entirely since forwarding the defective goods to the manufacturer is no longer necessary! If the graphics card that is to be replaced is out of stock or can no longer be delivered we will issue a credit note to your customer account. With this credit you will be free to select an alternative graphics card from our stock. Any resulting surcharges can be added and we will refund any outstanding balance.
I have a defective graphics card. What do I do now? -> Rapid RMA of faulty graphics cards (click here)
Brands: ASUS, Club 3D, EVGA, Gigabyte, INNO3D, Palit, PNY, Powercolor, Sapphire, VTX3D, XFX, ZOTAC & King Mod
Free Games with AMD Radeon Gaming Graphics Cards:
For every gaming graphics card purchased at Caseking we will send out voucher codes for the current game bundles via e-mail within 14 days after receipt of goods. For products not qualifying for the promotion we will not send out any codes. Only end customers will receive free extras. All promotional campaigns are limited and only valid while stock lasts or until the offer expires. There is no right of appeal. All active AMD voucher codes are listed below:
There are no active game bundles for graphics cards from AMD at this time.
Technical Details:
Dimensions: 277 x 131 x 44mm (L x W x H)
Slot Height: 2.2 Slots
GPU: AMD Radeon RX 6900 XT Strix
Chip: Navi 21
Manufacturing Process: 7nm
Base clock speed: 1,925MHz
Game Clock 2,135MHz
Max. Boost Clock: 2,365MHz
Shader Units: 5,120
Compute Units: 80
Ray Accelerators: 80
VRAM: 16,384MB
Memory Frequency: 8,000MHz (effektive 16,000MHz)
Type: GDDR6
Memory Bus: 256 Bit
Memory Bus Bandwidth: 512GB/s
Slot Type: PCIe 4.0 x16
Ports:
2x DisplayPort 1.4a
1x HDMI 2.1
1x USB-C (DisplayPort 1.4a + PD)
TDP: 300 watts
Power Connectors: 3x 8-pin PCIe
Recommended PSU: min. 850 watts
Features: RDNA 2 GPU architecture, H265/HEVC video encoding, FidelityFX, DirectX 12 Ultimate, Vulkan 1.2, OpenGL 4.6, OpenCL 2.0+, Eyefinity 2.0, AV1 Decode, TrueAudio Next, FreeSync Premium Pro, AMD Smart Access Memory.
Technical Details
| | |
| --- | --- |
| GPU type / series | AMD Radeon RX Gaming |
| Graphics chip | AMD Radeon RX 6900 XT Strix |
| Manufacturing process | 7 nm |
| max. GPU clock (base) | 2.135 MHz |
| max .GPU clock (boost) | 2.365 MHz |
| Shader units | 5.120 |
| VRAM size & type | 16.384 MB GDDR6 |
| max. Memory clock | 16.000 MHz |
| Memory Interface Width | 256 Bit |
| Display connectors | HDMI, Display Port, Display Port (2x), USB Typ C (Display Port shared) |
| Power supply | 3x 8-Pin PCIe |
| Needed slots / size | 2,5 Slots |
| GPU lenght (exact) | 277 mm |
| GPU height (exact) | 44 mm |
| GPU width (exact) | 131 mm |
| GPU lenght | 250 – 300 mm |
| GPU height | 30 – 50 mm |
| GPU width | 130 – 140 mm |
| Water cooler | yes |
| Lighting | yes |
| Lighting colour | RGB (selectable) |
| LED compatibility | ASUS Aura Sync |
| Virtual Reality | Caseking recommendation, Radeon VR Ready Premium |
| Features | AMD FreeSync, AMD FreeSync Premium, AMD FreeSync Premium Pro |
| Primary colour | black |
| Secondary colour | grey, silver |